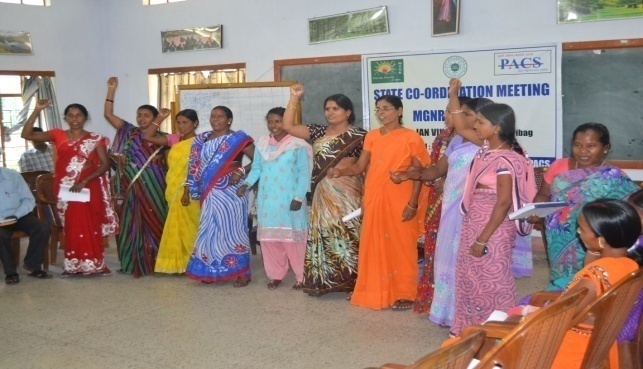 Date:
15
May, 2014
The second day began with a review of the previous day's session by Mr. Saumiya. Further presentation was done by the groups on the assigned topics.
Formation of Ekta Mahila Manch:
The formation of the Ekta Mahila Manch was done by Mrs Emilia Hansda. In her speech, she described about the work of the Ekta Mahila Manch, which is similar to the works of Ekta Parishad. The slogan was same, "Chalo Gaon Ki Aur". The members of the Ekta Mahila Manch supported to strengthen the Gram Ekai. She further stated, that the organization would make women self reliant in all aspects (socially, politically, economically). She concluded by stating that men would equally have to support the Ekta Mahila Manch in every aspect. The members of the Ekta Mahila Manch were elected district wise.
Furthermore, she described about the roles of each member. The main role of each member was to form a district and block level committee. Thereafter, the organization will call for a Sammellan and build capacity for making it a "Swalambhi Gaon". She added that Ms. Laxmi Khalkho, associated with Ekta Prishad, will work independently for NSVK.
Ms. Laxmi Khalkho shared her experience when she joined NSVK and mentioned that a lot of support was provided to her by Mr. Birendra and Mr. Ramswaroop.
Review and evaluation Session:
This session was facilitated by Mr. Birendra Kumar. He wanted to analyze if NSVK is working towards its goal. Analyzation was done on the basis of work done within the previous years. For this he invited the district coordinators from each district to present the status of the work done in their respective project areas.
Further, Mr. Rajendra Guria, Programme coordinator, NSVK, PACS, for Sahayta Evam Sansadhan Kendra (SESK), discussed about the status of SESK. He shared regarding the establishment and function of SESK. It was established on 15th November 2013 which covered 10 blocks of the Giridih district. It remains open for 2 days in a week from 10am to 1 pm. SESK office is managed by the Block coordinators. Regarding the functioning of SESK, the Deputy Commissioner advised to open the SESK office daily and that he has the phone numbers of all the Block coordinators.